In Your Dream outdoor Deck & living space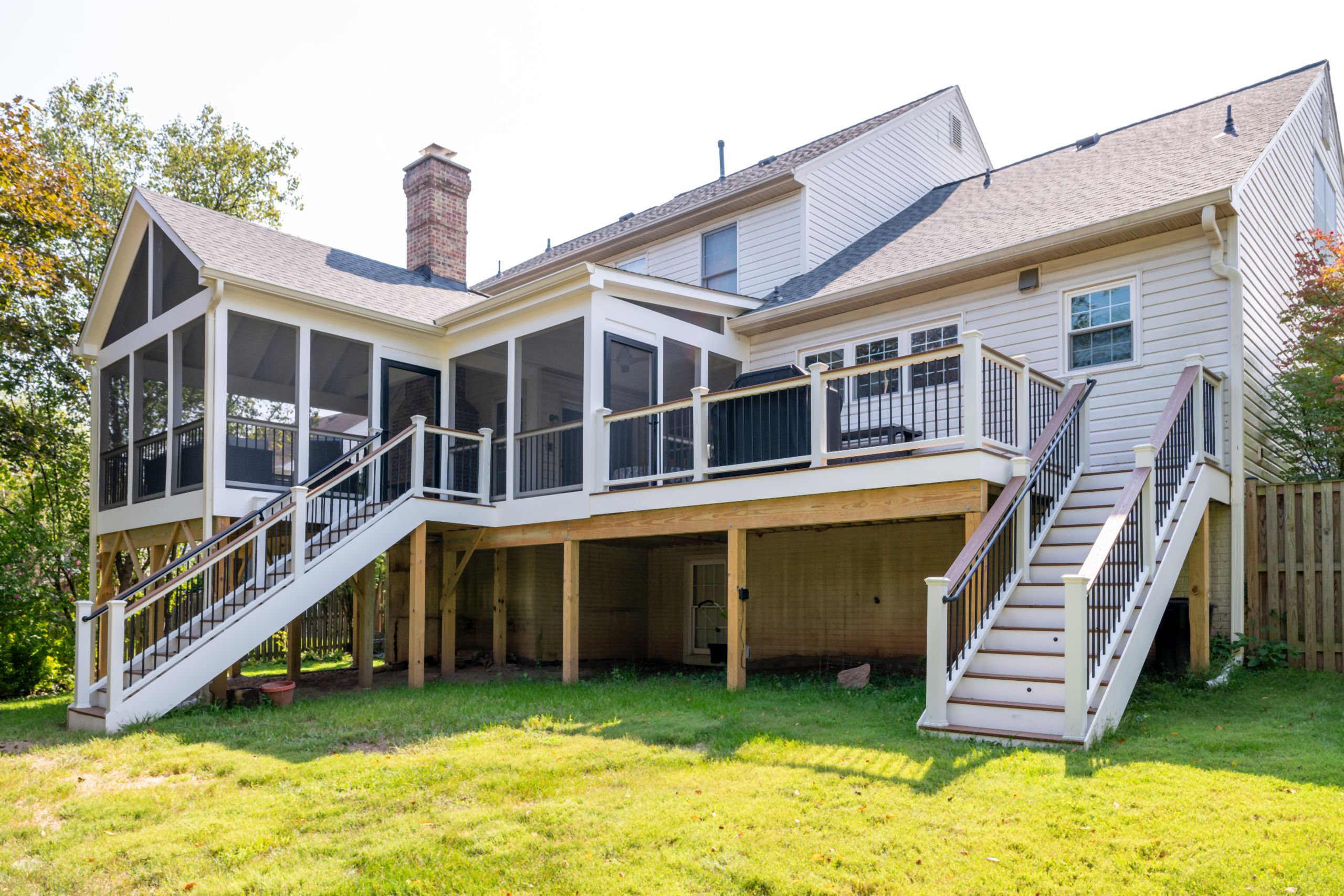 Have a new deck with quality, integrity, & the customer service you deserve.
Custom Deck Builder in Arlington County, VA
Enjoy A Stress-Free Custom Deck
Turnkey Process

We take care of everything for you: permitting, ordering, construction, and the finish work.
Quality Control

Every project has a dedicated foreman to oversee the quality of the materials and construction.
Clear Communication

As a family-owned business, we value communication and make sure you get regular updates throughout the project.
We believe every homeowner wanting a custom deck in Arlington County deserves a contractor who makes the construction process stress-free and built to last a lifetime.
Do you have a vision for your dream outdoor living space, but you feel overwhelmed by the construction process?

Are you worried about picking an unresponsive contractor who won't deliver as promised?

Are you concerned that the project won't meet your expectations in design and quality when you are finished?
We know what it feels like to not love your backyard and feel overwhelmed by construction.
That is why our family-owned business values focus on quality, integrity, and communication.
"I called Fortress Construction and got an estimate plus a 3D rendering. The rendering was the coolest part. It was easy to see what we would get. We couldn't be happier and would highly recommend them."
-Jason Harbaugh
We make a new deck in Arlington County stress-free
What you can expect with Fortress Construction:
Family-Owned Business
We treat you the way every customer deserves to be treated.
20+ Years of Experience
Have peace of mind that you are getting the best construction techniques on your project.
2-year Labor Warranty
We stand behind our work for 2 years.
Locally Sourced Products
No big-box stores for us: we source local high-quality materials.
Custom Deck Builder & Designer in Arlington County, VA
If you live in Arlington County and are looking to build a new deck, you may be concerned about picking a dishonest contractor or not having your expectations met.
At Fortress Construction, our turnkey process and focus on quality and communication ensures your project will be properly built and provide your dream outdoor area & deck to host and relax for years to come!
Most homeowners dream of having a beautiful outdoor space where they can host, relax, and spend time with family and friends. 
If you would like to add an outdoor space to your home in Arlington County, VA, give us a call at Fortress Construction! We build a variety of outdoor structures, including decks, porches, and other types of structures. 
Give us a call today to get started on your project! 
If you live in Arlington, VA, you are already familiar with the area's unique personality. Some of the attractions that add to this personality include: 
Arlington National Cemetery 

The Tomb of the Unkown Soldier 

U.S. Marine Corp war Memorial 

Pentagon Memorial 

John F. Kennedy Grave Site 

Gravelly Point Park 

Fort Myer

Mount Vernon Trail 

The Observation Deck at CEB Tower 

Air Force Memorial 

Signature Theatre 

Village at Shirlington 
Located right next to the District of Columbia, Arlington County, Virginia is packed with worthwhile things to do and see! 
Situated on the southwestern bank of the Potomac River, directly across from the District of Columbia, Arlington is considered the second-largest "principal city" of the Washington Metro area, even though it is not legally an incorporated city. 
In 2020 the population of Arlington County was 238,643 people, making it the sixth-largest county in VA by population. If it were an incorporated city, it would be the third most populous in the state, but with a land area of just 26 square miles, Arlington is geographically the smallest self-governing County in the USA. 
Although it is a small County, Arlington can boast some impressive things. It is home to the Pentagon, Reagan National Airport, and Arlington National Cemetery, as well as numerous academic organizations. These include Marymount University, George Mason University's Antonin Scalia Law School, and buildings for the Schar School of Policy and Government. 
Arlington is also the future home of the co-headquarters of Amazon and the global headquarters of Boeing and Raytheon Technologies. 
With all this packed into 26 square miles, it's no surprise that Arlington is thriving! 
If you would like to add some usable outdoor space to your home in Arlington County, VA, give us a call at Fortress Construction. We would be happy to help out with your project. 
We serve all zip codes and neighborhoods in Arlington, VA, including: 
22204, 22201, 22207, 22202, 22203, 22206, 22205, 22209, 22213, 22211, 20231, 20330, 20355, 20380, 22210, 22215, 22214, 22217, 22216, 22219, 22218, 22223, 22222, 22226, 22225, 22229, 22227, 22234, 22230, 22240, 22243, 22242, 22245, 22244, 22246
Alcova Heights, Arlington Forest, Arlington Heights, Arlington Ridge, Arlington View / Johnson's, Hill, Ashton Heights, Aurora Highlands, Aurora Hills, Ballston, Barcroft, Bellevue Forest, Bluemont, Bon Airm, Boulevard Manor, Brandon Village, Broyhill Heights, Buckingham, Carlin, Springs, Cherrydale, Claremont, Clarendon, Columbia Forest, Columbia Heights, Country Club, Hills, Courthouse, Crescent Hills, Crystal City, Crystal Gateway, Dominion Hills, Donaldson Run, Douglas Park, East Falls Church, Fairlington, Forest Glen, Forest Hills, Fort Myer Heights, Glencarlyn, Garden City, Gates of Ballston, Greenbrier, High View Park / Halls Hill, Jackson Court, Lacey Forest, Lauderdale, Lee Heights, Lyon Park, Madison Manor, Maywood, New Dover, Nauck (Green Valley A.K.A. The Valley), Old Glebe, Overlee Knolls, Palisades,, Pentagon, City, Penrose, Prospect House, Radnor, Randolph Square, Rivercrest, Rosslyn, Shirlington, Station Square, Tara, Virginia Square, Waycroft-Woodlawn (formerly Woodlawn Park), Waverly Hills, Westmont, Westover, Willet Heights, Williamsburg, Williamsburg Circle, Williamsburg Village, Yorktown, and more.
We look forward to hearing from you.
We build custom decks, porches, and other outdoor living areas throughout Northern Virginia and the D.C. metro area, including:
You can also view our screened-in porch pages:
Not sure if we serve your area? Call us at 703-280-0010 or contact us online.