Without the sun or irritating bugs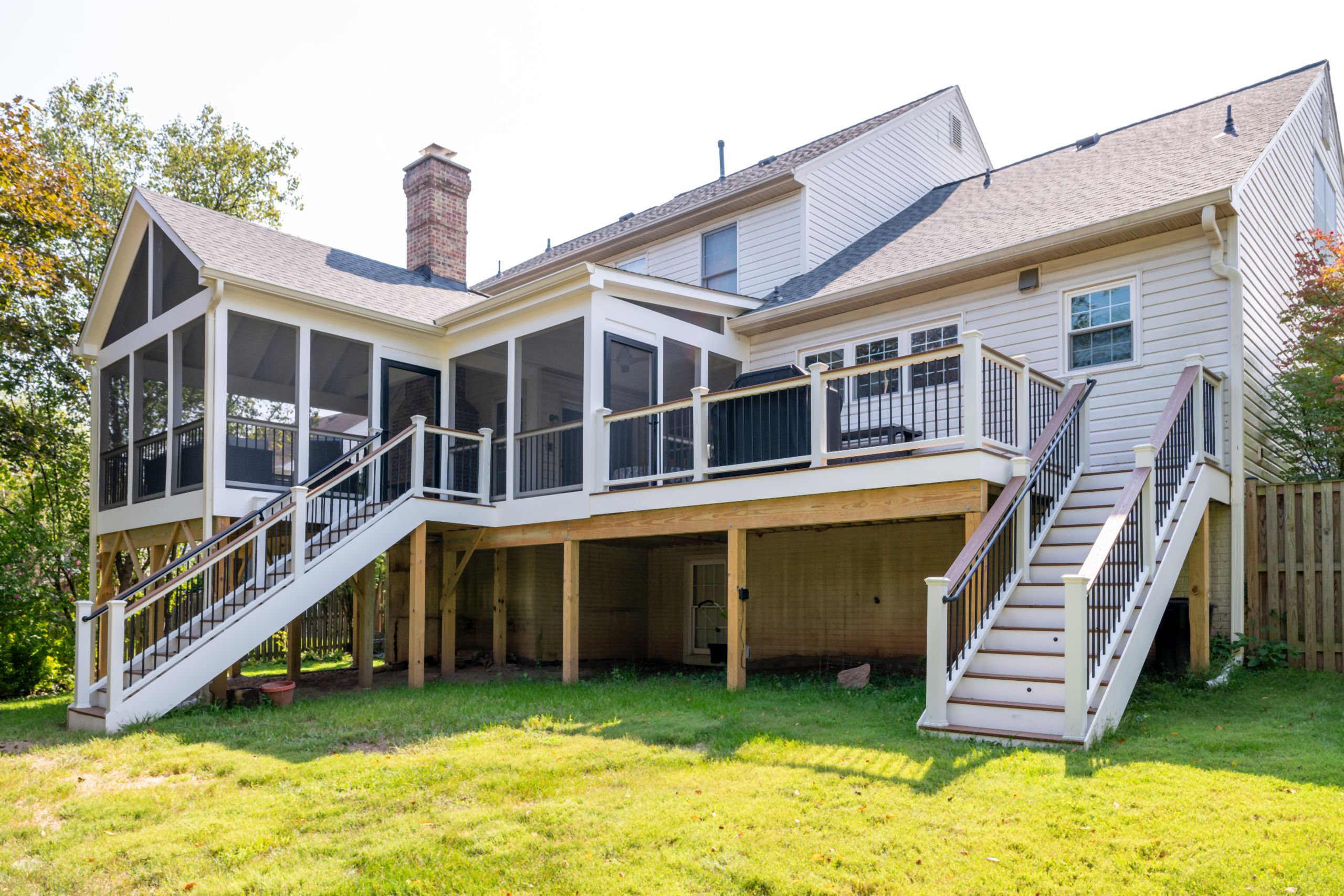 A screened-in porch allows you to host a backyard party in peace and comfort!
Custom Screened-in Porches for Oakton, VA
Enjoy A Stress-Free Screened-in Porch
Turnkey Process

We take care of everything for you: permitting, ordering, construction, and the finish work.
Quality Control

Every project has a dedicated foreman to oversee the quality of the materials and construction.
Clear Communication

As a family-owned business, we value communication and make sure you get regular updates throughout the project.
We believe every homeowner who wants to host in style in Oakton, VA, deserves a structure that provides protection from the sun, precipitation, and bugs!
Are you tired of parties getting canceled due to rain?

Are unwanted bugs and insects making your outdoors miserable?

Do you want to enjoy the outdoors without worrying about too much direct sun exposure?
We provide a variety of custom screened-in porch options so that you can enjoy your outdoors without worrying about the weather, too much direct sun, or bugs!
"I called Fortress Construction and got an estimate plus a 3D rendering. The rendering was the coolest part. It was easy to see what we would get. We couldn't be happier and would highly recommend them."
-Jason Harbaugh
We make screened-in porches in Oakton stress-free
What you can expect with Fortress Construction:
Family-Owned Business
We treat you the way every customer deserves to be treated.
20+ Years of Experience
Have peace of mind that you are getting the best construction techniques on your project.
2-year Labor Warranty
We stand behind our work for 2 years.
Locally Sourced Products
No big-box stores for us: we source local high-quality materials.
Custom Screened-in Porch Builder & Designer in Oakton, VA
If you own a home in Oakton and want a way to enjoy the outdoors without worrying about bugs or direct sunlight, then we have the solution for you.
At Fortress Construction, our turnkey process and focus on custom options allows you to build the screened-in porch of your dreams to enjoy with your family and friends for years to come!
Fortress Construction stands as the premier choice for homeowners seeking to enhance their hosting space through the creation of a new deck or screened-in porch in Oakton, VA. With a steadfast commitment to quality, integrity, and customer service, this construction company ensures that outdoor living projects in this picturesque community are elevated to the next level.
Situated in the heart of Fairfax County, Oakton, VA, exudes an idyllic suburban charm, complemented by lush greenery and a serene ambiance. Nestled amid Northern Virginia's verdant landscape, this unincorporated community provides residents with a respite from the bustling city life while being in close proximity to Washington, D.C. Oakton's location offers a perfect blend of tranquility and accessibility, making it an attractive place for homeowners to invest in their outdoor spaces.
Visitors and newcomers to Oakton can explore a variety of attractions that showcase the area's natural beauty and historical significance. The top attractions include, 
Oak Marr Park, a haven for outdoor enthusiasts

Oakton Shopping Center, offering diverse retail experiences

Oakton Library, a hub of knowledge and community engagement 
The town is also dotted with charming local parks and scenic trails that cater to both recreational and leisure activities.
The demographics of Oakton reveal a well-educated and affluent community, with a strong emphasis on family life. This region's history is deeply rooted in agriculture and rural life, though it has evolved into a thriving suburban enclave over the years. The preservation of historic sites and landmarks, such as the Historic Vale Schoolhouse and the Oakton Church of the Brethren, reflects the town's commitment to honoring its heritage.
The economic state of Oakton is robust, thanks to a well-educated workforce and its proximity to the booming technology and business sectors in the D.C. metropolitan area. The real estate market, in particular, has seen steady growth, with many residents investing in home improvement projects like the ones offered by Fortress Construction to enhance their outdoor living spaces.
Oakton, VA, is a community that combines the tranquility of suburban living with the convenience of urban access. Residents and visitors alike can appreciate the natural beauty, rich history, and economic prosperity that define this unique enclave. With Fortress Construction's commitment to quality and customer satisfaction, outdoor living in Oakton takes on a new dimension, ensuring that homeowners make the most of their time in this charming Virginia town.
We proudly serve all of Oakton's zip codes and neighborhoods, including 22030, 22031, 22124, 22180, 22181, 22185
Airston At Fox Mill, Allans Fairfax Farms, Ashton, Avon, Avondale Glen, Berryland Farm, Bridges Of Oakton, Carmel In The Woods, Cinnamon Ridge, Clarkes Landing, Connemara, Constance Cooper, Dartmoor Woods, Deville Estates, Dogwood Knolls, Edgemoore Manor
We'd love to hear from you!
We build custom decks, porches, and other outdoor living areas throughout Northern Virginia and the D.C. metro area, including:
You can also view our screened-in porch pages:
Not sure if we serve your area? Call us at 703-280-0010 or contact us online.