Without the sun or irritating bugs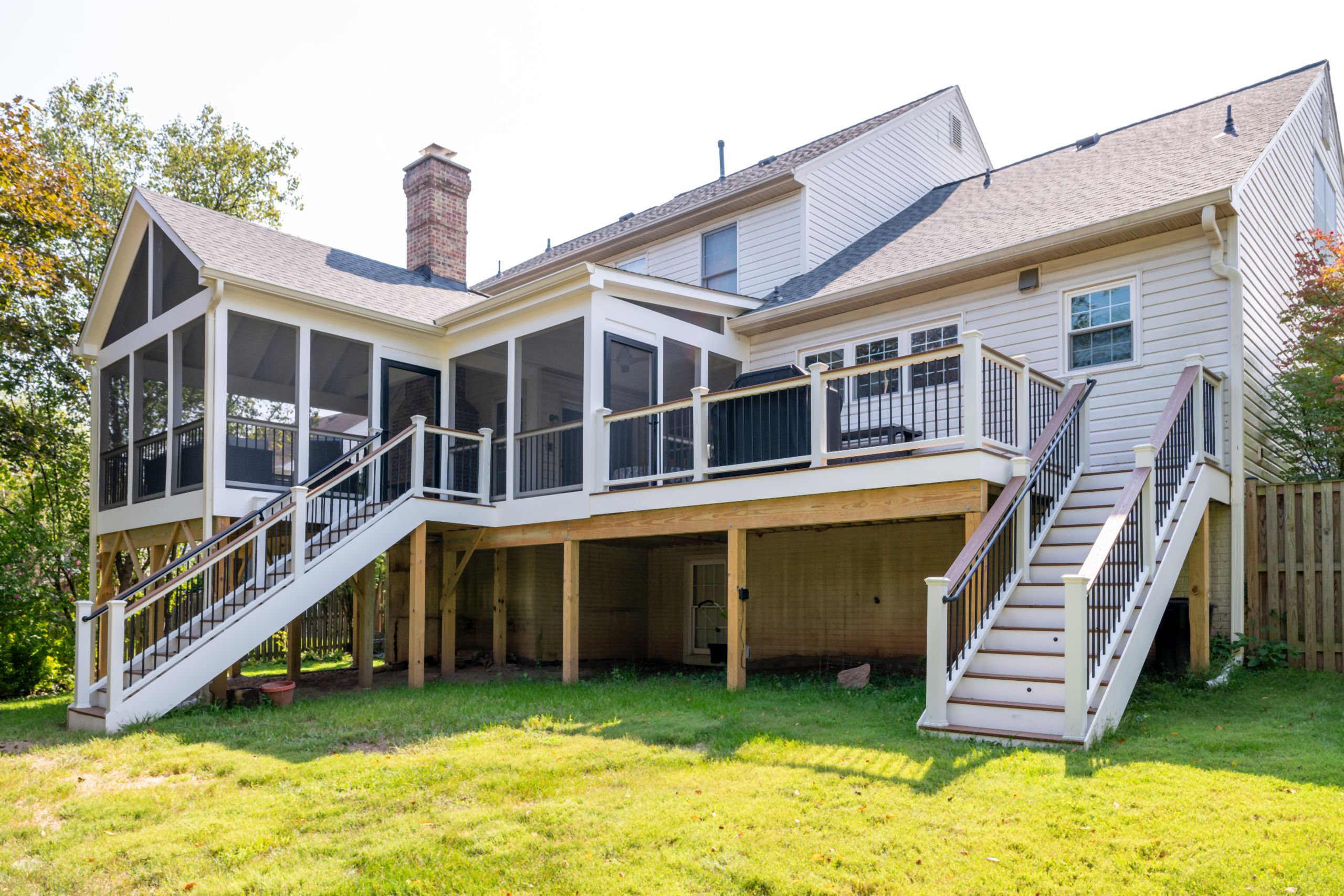 A screened-in porch allows you to host a backyard party in peace and comfort!
Custom Screened-in Porches for Aldie, VA
Enjoy A Stress-Free Screened-in Porch
Turnkey Process

We take care of everything for you: permitting, ordering, construction, and the finish work.
Quality Control

Every project has a dedicated foreman to oversee the quality of the materials and construction.
Clear Communication

As a family-owned business, we value communication and make sure you get regular updates throughout the project.
We believe every homeowner who wants to host in style in Aldie, VA, deserves a structure that provides protection from the sun, precipitation, and bugs!
Are you tired of parties getting canceled due to rain?

Are unwanted bugs and insects making your outdoors miserable?

Do you want to enjoy the outdoors without worrying about too much direct sun exposure?
We provide a variety of custom screened-in porch options so that you can enjoy your outdoors without worrying about the weather, too much direct sun, or bugs!
"I called Fortress Construction and got an estimate plus a 3D rendering. The rendering was the coolest part. It was easy to see what we would get. We couldn't be happier and would highly recommend them."
-Jason Harbaugh
We make screened-in porches in Aldie stress-free
What you can expect with Fortress Construction:
Family-Owned Business
We treat you the way every customer deserves to be treated.
20+ Years of Experience
Have peace of mind that you are getting the best construction techniques on your project.
2-year Labor Warranty
We stand behind our work for 2 years.
Locally Sourced Products
No big-box stores for us: we source local high-quality materials.
Custom Screened-in Porch Builder & Designer in Aldie, VA
If you own a home in Aldie and want a way to enjoy the outdoors without worrying about bugs or direct sunlight, then we have the solution for you.
At Fortress Construction, our turnkey process and focus on custom options allows you to build the screened-in porch of your dreams to enjoy with your family and friends for years to come!
When it comes to enhancing hosting spaces with new decks or screened-in porches in Aldie, VA, homeowners need look no further than Fortress Construction. This dedicated construction company is committed to the mantra of outdoor living projects built with quality, integrity, and the customer service that every homeowner deserves. Their expertise is the perfect solution for those seeking to transform their homes in this charming Virginia community.
Aldie, VA, is a delightful town that nestles in Loudoun County's picturesque landscape. Surrounded by lush, rolling hills and a serene countryside ambiance, Aldie offers a serene escape from the bustle of city life while maintaining convenient access to the nation's capital, Washington, D.C. This idyllic setting is the canvas on which homeowners in Aldie can create their dream outdoor living spaces.
For those visiting or new to Aldie, here are the top ten attractions that encapsulate the town's charm:
Aldie Mill Historic Park: A preserved gristmill and surrounding park that reflects the town's historical roots.

The Aldie Peddler: A unique shop for antiques, vintage items, and collectibles.

Mount Zion Old School Baptist Church: A historic church with deep community ties.

Chrysalis Vineyards: A local winery offering exquisite Virginia wines in a picturesque setting.

Aldie General Store: A charming establishment with a nostalgic ambiance, known for its delectable treats and handcrafted items.

The Winery at Bull Run: A winery set within a historic site, offering wine tastings and scenic views.

Gilbert's Corner Regional Park: A serene park with trails and picnic spots.

Aldie Heritage Association: A repository of local history and cultural heritage.

Oatlands Historic House and Gardens: A grand estate featuring historic architecture and beautiful gardens.

Quattro Goomba's Winery: A unique winery and brewery with a relaxed, family-friendly atmosphere.
Demographically, Aldie is marked by a mix of suburban and rural living, with a diverse population that values community bonds and family life. Its history is steeped in agricultural roots, and it still maintains a close connection to its heritage through historic landmarks and traditions.
The economic state of Aldie has seen growth in recent years, largely influenced by its proximity to the bustling Northern Virginia technology corridor. The real estate market has been particularly robust, with homeowners investing in property improvement projects like those offered by Fortress Construction to maximize their homes' potential.
Aldie, VA, is a hidden gem offering a peaceful, countryside lifestyle with all the advantages of modern convenience. With the commitment of Fortress Construction to quality, integrity, and exceptional customer service, homeowners in Aldie can elevate their outdoor living experiences and make the most of this delightful town's serene charm.
We proudly serve all of Aldie's zip codes and neighborhoods, including Amber Spring Condominiums, Centre Park At Stone Ridge, Condominiums At Kirkpatr, Creighton Farms, Grant At Willowsford, Greens South At Willowsf, Grove At Willowsford, and Hartland.
We'd love to hear from you!
We build custom decks, porches, and other outdoor living areas throughout Northern Virginia and the D.C. metro area, including:
You can also view our screened-in porch pages:
Not sure if we serve your area? Call us at 703-280-0010 or contact us online.