Without the sun or irritating bugs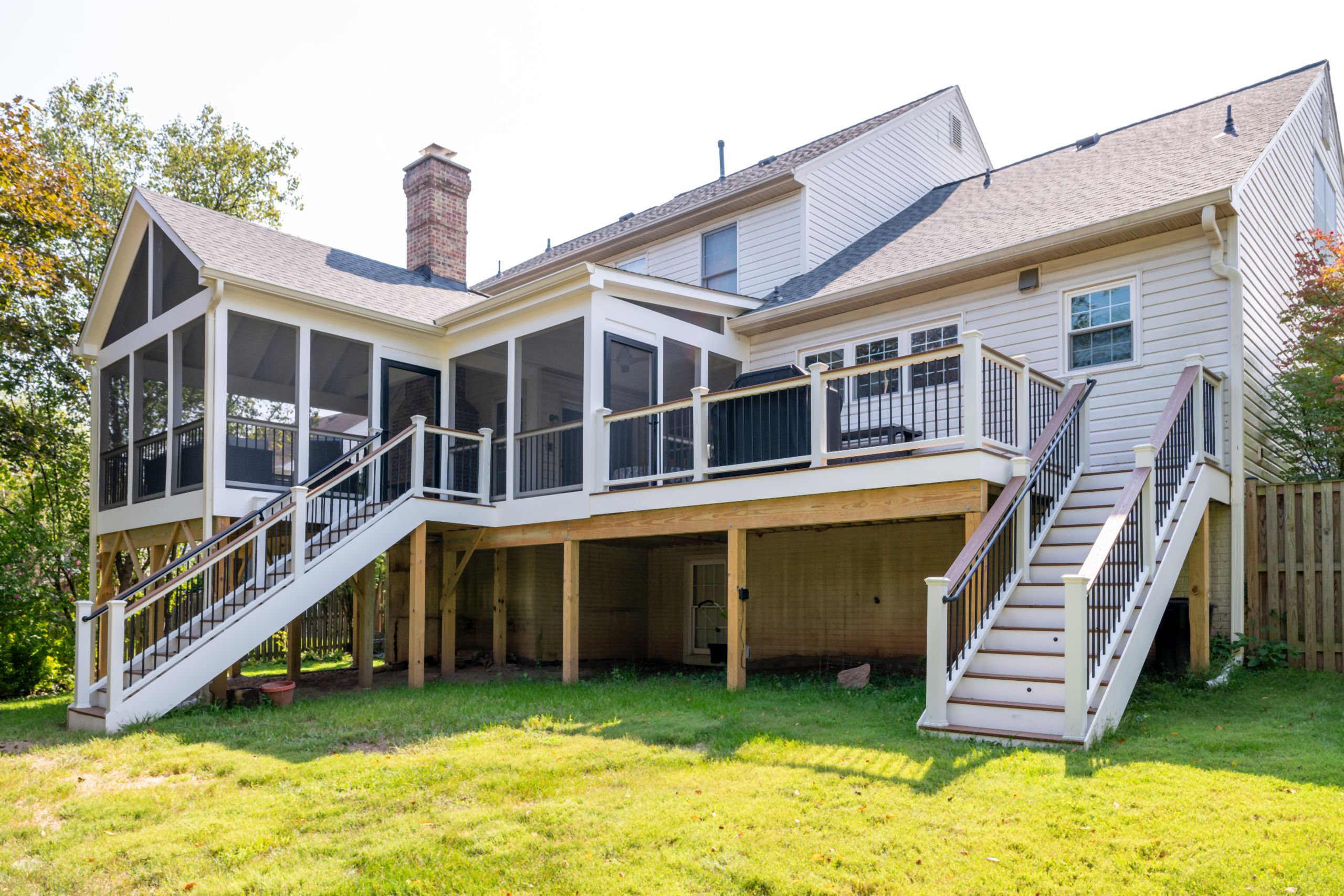 A screened-in porch allows you to host a backyard party in peace and comfort!
Custom Screened-in Porches for Burke, VA
Enjoy A Stress-Free Screened-in Porch
Turnkey Process

We take care of everything for you: permitting, ordering, construction, and the finish work.
Quality Control

Every project has a dedicated foreman to oversee the quality of the materials and construction.
Clear Communication

As a family-owned business, we value communication and make sure you get regular updates throughout the project.
We believe every homeowner who wants to host in style in Burke, VA, deserves a structure that provides protection from the sun, precipitation, and bugs!
Are you tired of parties getting canceled due to rain?

Are unwanted bugs and insects making your outdoors miserable?

Do you want to enjoy the outdoors without worrying about too much direct sun exposure?
We provide a variety of custom screened-in porch options so that you can enjoy your outdoors without worrying about the weather, too much direct sun, or bugs!
"I called Fortress Construction and got an estimate plus a 3D rendering. The rendering was the coolest part. It was easy to see what we would get. We couldn't be happier and would highly recommend them."
-Jason Harbaugh
We make screened-in porches in Burke stress-free
What you can expect with Fortress Construction:
Family-Owned Business
We treat you the way every customer deserves to be treated.
20+ Years of Experience
Have peace of mind that you are getting the best construction techniques on your project.
2-year Labor Warranty
We stand behind our work for 2 years.
Locally Sourced Products
No big-box stores for us: we source local high-quality materials.
Custom Screened-in Porch Builder & Designer in Burke, VA
If you own a home in Burke and want a way to enjoy the outdoors without worrying about bugs or direct sunlight, then we have the solution for you.
At Fortress Construction, our turnkey process and focus on custom options allows you to build the screened-in porch of your dreams to enjoy with your family and friends for years to come!
Would you like more usable space at your Burke, VA home? 
If so, give us a call at Fortress Construction. We understand the desire for a beautiful space for hosting, relaxing, and spending time with family and friends. That is why we create beautiful outdoor spaces such as decks, porches, and more for homes in Burke, Va. 
Give us a call today to get started on your project! 
If you own a place in Burke, Va, you have likely already experienced some of the local beauty, history, and attractions around the area. Some of these local attractions include: 
Pohick Stream Valley Trail 
193-year-old Silas Burke House 
Burke Fortune House 
Burke Station Park 
Fairfax Railroad Museum 
Royal Lake Park 
South Run Park 
Hidden Pond Park 
Springfield Golf and Country Club 
Wakefield Skate Park 
Burke Lake Park 
Located in Fairfax County, VA, Burke is an unincorporated section of city including two CDPs: the Burke CDP, with a population of 41,055, and the Burke Centre CDP, with a population of 17,326. 
The city is named after its founder, Silas Burke, a 19th century slave owner, farmer, merchant, and politician. Burke built a house overlooking Pohick Creek in the early 1820s, and the house still stands today. In the late 1840s a railroad station along the Orange and Alexandria Railroad was built at the bottom of the hill and named "Burke's Station," as Silas Burke owned the land. A community soon grew up around Burke's Station, and it acquired a post office in 1852. You can still see the original Burke's Station in Burke. 
Today, Burke covers a total area of 8.7 square miles of land and is home to thousands of people. A few more of its notable historical sites include Mulberry Hill, the Silas Burke House, the Burke Methodist Church, and the Little Zion Baptist Church and Cemetery. 
The Greater Springfield Chamber of Commerce says this about the Burke community: 
"The community of Burke, the 22015 zip code, is located to the west of Springfield, north of Fairfax Station. The area has a strong showing of retail space and some commercial office use, but is primarily a residential community.  Burke was once to be the home of Dulles Airport - when folks thought the DC metro area could not possibly spread out this far!"
If you would like to add more usable space to your home in Burke, give us a call here at Fortress Construction. We would be happy to help you out. 
We serve all neighborhoods and zip codes in Burke, VA, including: 22015, 22032, 22039, 22152, 22153 
Bent Tree, Burke Chase, Burke Cove, Burke Lake Meadow, Burke Ridge Cluster, Burkewood Glenn, Cardinal Estates, Carrleigh, Cherry Run, Claytons Grove, Crownleigh, Dunleigh, Edgewater, Fox Lair, Greenfield Farm, Homewood, Keene Mill Forest, Longwood Knolls, Meadows Of Narnia, Orange Hunt West, Queens Gate, Rolling Valley West, Rollingwoods, Estates, Shannon Station, Signal Hill, Silas Station, Southport, Summerday, Timarron Cove, Waverly East, Waverly West, Woodridge
And all other Burke zip codes and subdivisions. We look forward to hearing from you!
We build custom decks, porches, and other outdoor living areas throughout Northern Virginia and the D.C. metro area, including:
You can also view our screened-in porch pages:
Not sure if we serve your area? Call us at 703-280-0010 or contact us online.